This Week's Schedule
Sunday
10:00 AM – Sunday Liturgy – all Sunday Mass Intentions will be remembered
Monday
8:30 AM – Daily Mass
12:00 PM – Exposition with Rosary and Chaplet of Divine Mercy
Tuesday
8:30 AM – Daily Mass
Wednesday
8:30 AM – Daily Mass
12:00 PM – Exposition with Rosary and Chaplet of Divine Mercy
Thursday
8:30 AM – Daily Mass
10:00 AM – Prayer Service for young people of our Parish
Friday
8:30 AM – Daily Mass
12:00 PM – Exposition with Rosary and Chaplet of Divine Mercy
7:30 PM – Station of the Cross
Saturday
8:30 AM – Daily Mass
3:30 – 4:30 PM – Confessions (drive by or walk up, in front of the statue of Mary)
5:00 PM – Vigil Mass
Stay Connected to St. Anastasia
Haven't signed up for FlockNote yet? It is easy to signup to get texts and emails that will keep you in the loop with Partish Happenings.
Go Envelope-less
Please signup for FaithDirect to give electronically and eliminate the use of envelopes.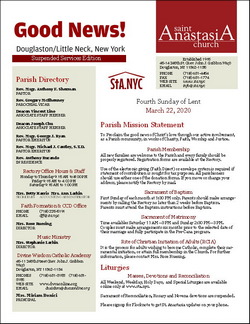 Sunday Mass
Saturday Vigil: 5:00 PM
Sunday 8:00 AM, 10:00 AM, 12:00 Noon, and 5:00 PM
Parish Mission Statement
To Proclaim the good news of Christ's love through our active involvement, as a Parish community, in works of Charity, Faith, Worship and Justice.
All are welcome!
No Results Found
The page you requested could not be found. Try refining your search, or use the navigation above to locate the post.
We will be collecting gift cards this year as a part of our Lenten almsgiving. We ask if you would like to participate, please restrict your gift cards to Supermarkets: Stop and Shop or Shop Rite These stores are convenient to those who will be helped by your donation...
read more
St. Anastasia Flocknote Service
Let's Keep in Touch!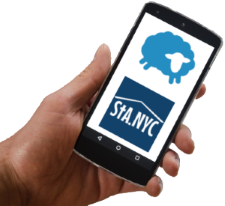 We encourage all parishioners to sign up for Flocknote to get notifications for important St. Anastasia announcements and upcoming events.
This new tool the Parish is using lets you choose what info you'd like to receive, via email or text message, from the various ministries and groups in our church. You can unsubscribe any time!
Use the link below to sign up or view the most recent notes. Or, you may text stanyc to 84576 from your phone to signup.
Text STOP to 84576 to stop txt notifications at any time. Text HELP for help. There is no charge for this service, but your carrier message and data rates may apply. View privacy policy & conditions.
Becoming Catholic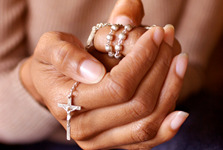 Are you looking to complete initiation by receiving First Holy Communion and Confirmation?
No matter what your reason might be for thinking about becoming Catholic or completing your initiation, our hope and prayer is that when God calls, you will respond.
Give us a call at (718) 225-5191. We are waiting to speak with you.
Knights of Columbus
Visit St. Anastasia Council #5911 website to learn more
Divine Wisdom Catholic Academy
Sparking Minds, Enriching Souls, Inspiring Futures
Visit the School's website
Celebrate Summer
Visit the St. Anastasia Celebrate Summer website to learn more about this summer's program