St. Anastasia Church Office & Rectory
Address
45-14 245th Street
Douglaston, NY 11362
Telephone
(718) 631-4454
(718) 631-4455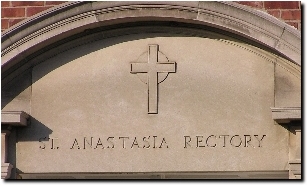 Office Hours
Monday to Friday 9:00 AM to 4:00 PM
Guidelines regarding information to be posted in the Bulletin
Anyone who would like to publish information regarding our community in the Bulletin, please submit it to us at least 7 days in advance of publication.
Proofread text and attached pictures/graphics should be emailed to

[email protected]

. In case you have specific guidelines, please include them along with the announcement.
While receiving any pictures or graphics from you we assume they are free to be published without violating/infringing copyrights.
Information concerning publication in the Parish Monthly Calendar, should be submitted 7 days before the last Sunday before the new month begins.