What does RCIA have to do with me?
At first glance our Parish Bulletin and Church Website make us aware of the RCIA program that is offered in our parish. We are conscience that this is a program guiding those who are interested in learning more about the faith toward the reception of the Sacraments of initiation.
What does RCIA have to do with me?
In 2002 a Catholic Update addressed this question in an article entitled. A New Look at the RCIA – Journey for the Entire Parish by Rita Burns Senseman. The following is an excerpt I hope you will enjoy!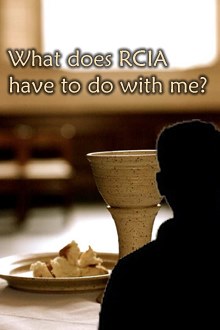 The parishioner's role in RCIA
The entire Christian community is responsible for the initiation of its newest disciples. Here are some specific ways:
As mentoring community. Every baptized parishioner has a role in initiation of our new members. We are part of that mentoring community that apprentices the new disciples. By observing our prayer, words, deeds and actions in the parish and in the broader community our newest members learn what it means to live as a Catholic Christian today. We provide the examples. We are the models. RCIA depends on us because we make up the Christian community.
As sponsors. In addition to the prayers we offer for our candidates and the examples we provide, there are other specific ways parishioners are involved in RCIA. Baptized members of the community serve as sponsors for candidates in the RCIA. A sponsor is an active member of the parish who walks with the candidate on the journey to new, fuller life in Christ. The sponsor supports and guides the candidate along the way. The sponsor is the candidate's personal connection to the parish.
As members of the Sunday assembly. There is one other way that every worshiping parishioner is involved in the RCIA. That's through participation in the liturgical rites of initiation that usually happen at Sunday Mass, especially in the months before Easter but also throughout the year. There are major liturgical rituals that mark the progress of the candidates who are in the initiation process. These liturgical rites are major events not only for the candidates in the process, but also for the entire parish. During the rites the parish recognizes and celebrates the candidates. As a member of the parish you are asked to pray with and for those in the initiation process. As a member of the Body of Christ, you also make manifest Christ's presence in the community. You, and we, are a sign of Christ to the candidates in the RCIA.
God Bless us as we journey toward our Celebration of the Liturgical Rites of Initiation.