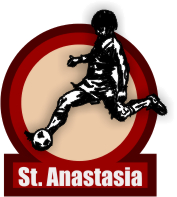 Soccer Athletic Director
Instructional Clinic
Instructional Clinic: Soccer clinic is held in the fall (September to November) and spring (April to May) on Saturday mornings at Memorial Field in Douglaston. This is an instructional clinic for 4 and 5 year olds. Children are taught basic soccer skills to prepare them for competitive play, which begins in first grade.
CYO Teams
Team competition is offered through the CYO program for all boys and girls in grades 1 through 8. Teams can be entered for older children if enough interest exists. Depending on number of children enrolled, teams may be co-ed, all boys, or all girls. More then one grade may also be combined if necessary. Children must reside within the boundaries of the Parish or attend Divine Wisdom Academy. All children are eligible to play, assuming they meet the birth year requirements and there is room on a team. There are no try-outs.  The Fall Season runs from September to November and the Spring Season runs from late March to June.
Practices
Generally practices are held once a week at Memorial Field in Douglaston. Times vary and are determined by the individual coach.
Games
Teams compete against CYO teams from other parishes. There is generally one game per week, although occasionally there could be two. All games are held on the weekends. Locations vary depending on the team that is being played.