New! CYO Flag Football!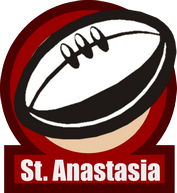 Flag Football Athletic Director
Competitive Play Teams
CYO offers Flag Football in 3 divisions for age groups 9 through 14. Practice will begin in March and end with the Diocesan Championship game in June. Games begin late March. Children must reside within the boundaries of the Parish or attend Divine Wisdom Academy. All children are eligible to play, assuming they meet the birth year requirements and there is room on a team. There are no try-outs.
Practices
Practices are held one to two times per week at Memorial Field in Douglaston. Days and times vary and are determined by the individual coach.
Games
Teams compete against CYO teams from other parishes. There is generally one and on occasion, two games per week. Games are scheduled for weekends as well as weekdays in the evening. Locations vary depending on the team that is being played.