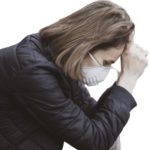 Dear Parishioners,
We are pleased to announce that beginning Tuesday, May 26th, our Church will be open for private prayer from 9:30 a.m. – 1 p.m. Please remember that if you are high risk or if you are feeling ill, please remain home.
Masses and devotions will continue to be streamed on Facebook and YouTube until the time we are allowed to have public masses again.
Here are the guidelines:
You will be responsible for mask/face covering and hand sanitizer.
There will be wipes by the candles, should you choose to light one and want to touch the button with a wipe.
We ask that you do not touch the statues.
The area leading to the sanctuary will be roped off. You may pray in the pews before the Blessed Sacrament but not right at the Tabernacle.
Please do not sit or kneel on the part of the pew that has tape on the seats to help maintain social distancing.
Bathrooms will be locked.
Handicapped ramp will be open.
Doors of the Church will be propped open to limit contact.
Thank you and God Bless!